Shawnee-Evergreen Community Association Membership Benefits
SECA is a volunteer run, non-profit organization, registered under the Societies Act.
We advocate for the community with City Planning and other agencies.
We host events and programs.  
We serve Shawnee Slopes, Shawnee Park,  Evergreen Estates as well as residents in the Beacon Hill and Fish Creek Exchange condominiums. 
When you become a member of SECA, you join a lively and vibrant community group that cares about making our neighbourhoods the best place to live in Calgary.
Join SECA to help us build a more neighbourly community where residents feel a sense of pride and belonging.
As COVID winds down we will be getting back to our usual programs and events for children, adults, and families. 
Watch this site, our Facebook page, and our e-newsletters and the print newsletters from Great News Media for news about upcoming events, programs and initiatives: 
Community Campfires
Neighbour Nights
Parade of Garage Sales (June)
Stampede Breakfast (September) 
Community Clean Up (partnering with Millrise CA – September)
Children's programs (fall)
Free Little Library project (July to September)
Each member household is entitled to one vote at the Annual General Meeting in September
A few notes about our new membership model:
Membership remains $20 per year.
When you join you a profile will be created and you will receive a confirmation email with a digital membership card.
SECA memberships are valid for one year from the date of purchase.
You will receive a reminder by email when it's time to renew. 
Community and Associate Memberships
Community Memberships are available to residents who live within the Shawnee Slopes, Shawnee Park and Evergreen Estates communities (see map on this page). A Community Member may receive discounted or free programs and events. Each member household has one vote at our Annual General Meeting.
Associate Memberships are available to non-residents of the Shawnee and Evergreen Estates who wish to support the community and/or enjoy discounted or free events and programs. 
Resident and Homeowner Associations
Residents and homeowner associations invoice annually to fund the maintenance of landscape features and/or common areas in buildings. Only homes and condos with a legal encumbrance on their titles pay these mandatory fees. The fees are often over $100 or $200.
Community association membership is voluntary. Through membership fees and by volunteering, community minded individuals make possible events and programs as well as selected neighbourhood amenities, that make our community a great place to live.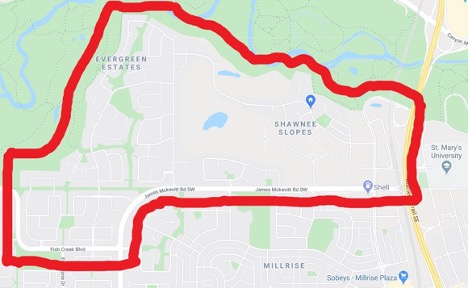 SECA Boundaries
If you live inside the areas outlined on the map above you are eligible to be a Community Member of the Shawnee-Evergreen Community Association (SECA).
You are a SECA resident iIf you live on a street with a name that contains EverGREEN or Shawnee or you are a resident of Beacon Hill or Fish Creek Exchange condominiums. – you can become a member.
Our neighbouring community to the west is supported by Calgary Evergreen Community Association (CECA). Street  names there may include "Ever" but not "Evergreen".